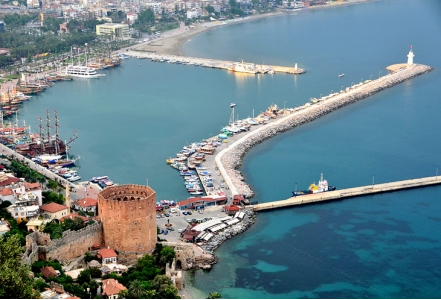 Antalya Alanya Transportation at Affordable Price
Antalya is one of the most popular tourist destinations in the world. It also is known as Turkey's  tourism  paradise. The region is visited  for  enjoyable and unforgettable holidays every year by tourists who would like to experience it on the shores of the Mediterranean.  Besides foreign tourists from different contries, there also are many domestic  tourists who want to have memories of  an unforgettable holiday in this region. All the holiday villages around Antalya, especially Alanya Works hard to provide the highest quality services.
Therefore, quality service and comfort are also imagined at the highest levels in Alanya. Alternative services are offered within our company in order to achieve your dream in the shortest time possible.
Your transfer from Antalya Airport  to Alanya  is comfortable and fast with us. We meet  our valued customers at their arrival at the airport and continue to accompany them from Antalya to Alanya transfer operation at the highest comfort level. 
Especially the number of people who arrive in  the Antalya airport is extremely high. Nowadays , where it is much busier from bus station, our goal is to give your holiday a pleasant start. You can get detailed information for your Antalya Alanya transfer  by contacting us as we are specified the best.lt  is known that our main goal is customer satisfaction. We offer and guarantee a comfortable transfer to your accommodation in Alanya.
Is Alanya Far?
Alanya is among the most preferred  primary tourism points of Antalya. According to this, many tourists, foreign or domestic,visit Alanya. It is 125 kilometers away from Antalya city centre  and we guarantee an enjoyable transfer to Alanya. It will take about 115 minutes to your destination with joy and comfort.
How Can I Return From Alanya?
We are also aware that you have question marks in your mind about your return . We also provide transfers from Alanya to Antalya
With our comfort and standart  service. You can also request  Alanya to  Antalya Airport transfer  transactions at affordable prices.
Alanya offers services with  hundreds of hotels and pensions at the most attractive points of the city. There are All Inclusive Hotels, Bed and Breakfast and Hostels  with different alternatives suitable for every pocket.