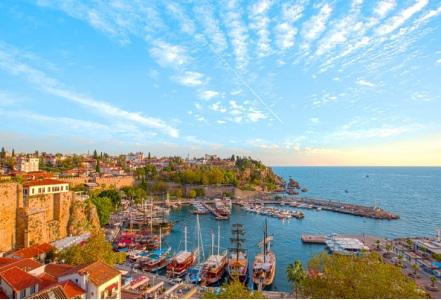 Antalya City Center Transfer
Located in the Mediterranean region of Turkey is  one of the major tourists cities. It is a place intertwined with nature, where many traces from Ancient Greek and Roman Civilizations can be found. Since it is possible to swim in Antalya even in the winter season, most of the cold climate is among the preferences of tourists. To visit the city, it is necessary to allocate at least 4 days to this city. But when you go to Antalya, 5-6 days can be ideal since you would like to enjoy the beach.


What To Eat In Antalya
There are many dishes that can be eaten in Antalya. Seafood,fish dishes, ice creams, skewers, meatballs and tahini beans are the first dishes that come to mind. There are many different dishes for those who would like to try local food. A few of these are carrot soup. Keshkek, tahini  with beans, lump roast and much more.
Places To Visit
If you go to Antalya, there are activities such as seeing Manavgat Waterfall, visiting the Toy Museum and walking around the Reverse House Action Park in the list of important things to do. İt will be necessary to open this list a little more. Those who love to travel can create their own routes. 
Museums: Antalya Museum, Side Underwater Museum, Toy Museum, Stove Museum, St Nicholas, Memorial Museum, Side Museum, Antalya Elmali Museum.
National Parks: Gulluk Park, Koprulu Canyon National Park, Ataturk Culture Park
Old town (kaleici)
Culture and Art Centers: Ataturk House Museum, Kaleici Museum
Beaches: Tekirova Beaches, Konyaalti Beach, Moonlight Beach, Phaselis Beach, Patara Beach, Olympos Beach, Lara Beach
Caves: Karain Cave, Beldibi Cave, Pirates Cave, Damlatas Cave, Dim Cave, Lovers Cave
Waterfalls: Duden Waterfall, Kursunlu Waterfall and  Nature Park, Manavgat Waterfall
Alternatives: Saklikent Ski Center
Antalya Transportation
It is possible to reach Antalya directly from every corner based on the preference. In addition to the possibility of transportation by the person's own vehicle, Antalya city center airport transfer opportunities are also available. In addition, Antalya transfer options include Kemer (52 minutes), Konyaalti (30 Minutes), Kundu (30 minutes), Belek (34 minutes), Beldibi (36 minutes), Goynuk (45 minutes), Kas (300 minutes) and Kalkan (320 minutes).
Transportation companies take care to carry passengers with their experienced staff and special vehicles. This transportation can be provided from the airport as well as from other cities and Antalya.