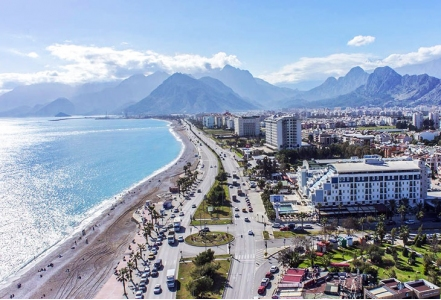 Antalya Konyaaltı Transfer
Konyaalti is located at the western end of Antalya. It is believed that Antalya was named Koyalti due to its location on the cliffs and was later converted to Konyaalti by the public.
Konyaalti district is also known for its famous beach with the same name ( Konyaalti Beach ). There are twenty-nine neighborhoods and ten villages in Konyaalti. It is neighbor to the district of Kepez and Muratpasa. The distance between Antalya Airport and Konyaalti is 21 km and you can reach Konyaalti From Antalya center in 30 minutes. This distance makes Antalya Konyaalti transfer and Konyaalti Antalya transfer transportation quite easy.
Places To Visit In Konyaalti
Konyaalti is within the borders of the Lycian region according to the settlement maps of Anatolian civilization. It is a place that stands out with its historical and unique natural beauties. The best known of these natural beauties is undoubtedly the Konyaalti Beach, which welcomes millions of local and foreign people every summer in its hot sands and has become a symbol. Konyaalti beach is one of Turkey's longest beach, has a length of 7 kilometers. There are many hotel and accommodation alternatives around this most beautiful beach of Antalya. You can use Konyaalti transfer services for transportation to these hotels.
When you come to Konyaalti, the favorite district of tourism, recommended places to visit are ; Antalya Museum, Geyik Bayiri Cave, Mini City, Antalya Aquarium, Konyaalti City Square, Roman Bath and Feslikan Plateau can be listed
What To Eat In Konyaalti
Konyaalti offers all kinds of options for holidaymakers to spend pleasant hours with delicious tastes. There are flavors that stand out among these dining options. These flavors can be counted as Antalya's local dishes and seafood.
How To Get To Konyaalti
Antalya's port is located in Konyaalti district. The distance between Antalya Airport and Konyaalti district is approximately 20 km. companies that provide private transfer services in Antalya and its district provide Antalya Airport Konyaalti transfer services to their customers, especially in order to provide easy transportation from the airport to Konyaalti district.
It is very important for holidaymakefrs who reach the hotels where they will stay in Konyaalti, to return to their homeland safely at the end of your holiday. Private companies that provide transfer services  offer,  Konyaalti Antalya Airport transfer services with affordable budgets. Depending on the season, additional transfer services are also provided. Attention is paid to keep a large fleet of vehicles for transfer operations in the region, where there is a high concentration of domestic and foreign tourists especially in the summer seasons.