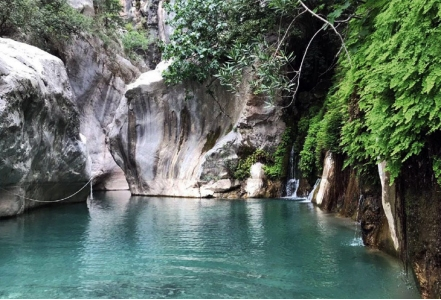 Antalya  Goynuk Transfer
Goynuk Antalya transfer, which is connected to Kemer district in Antalya province, can be made very easily. The  distance between Goynuk and Antalya is about 50 kilometers and transfer takes about 45 minutes. Goynuk is one of the most remarkable holiday destinations with its wonderful nature, blue sea, beautiful beach, hotels providing high quality services, holiday destinations and beautiful beaches. Antalya and Goynuk transfers can be done 24/7 safely. It is a Goynuk is one of the resorts where Antalya hosts the most domestic and foregn tourists.
Places To Visit In Goynuk
Goynuk Beach:  The beauty of the Blue Flaged beach of Goynuk and the beauty of the sea attract many tourists. Sea, sand and the sun can be enjoyed at Goynuk beach and many water sports can be done.
Goynuk Canyon:  Goynuk Canyon is one of the places that should be visited in Goynuk. Many activities such as trekking, swimming in the pool and waterfalls can be done in Goynuk Canyon.  This canyon, which has a very beautiful nature, is also a part of the Lycian road. 
Dinopark: It is a park established on a forest area of 30 decares. It is a park where dinosaur mockups that are almost exactly compatible with the facts are exhibited. It is a park with many entertaining activities such as zoo, pony, trampoline, climbing wall, 7D cinema, pool games, platenarium, bumper boats and fosil pool. 
Ecofun Adventure Park: It is an adventure park established in a large area around Goynuk Canyon. Many adventure activities can be organized, especially in the canyon safari.
What To Eat In Goynuk
There are many cafes and restaurants in Goynuk. Especially on the coastline, there are many restaurants belonging to the world cusine. Many restaurants that are suitable for every taste can be easily found. Goynuks special dishes , where Mediterranean cuisine is dominant, are  seafood and vegetables. Chickpea hibish, tandoor kebab, stuffed zucchini flower, cowpea salad, tarator puz and bargamot jam are the most popular foods in Goynuk.
Goynuk Antalya Transfer
The distance between Antalya and Goynuk is 58 kilometers. Antalya Airport Goynuk Transfer are realized in a comfortab le, safe and economical way with Kemer Tur Vip within 45 minutes.